Ivy Mcgregor, Rich Paul, Trae Da Truth, and Mai Lassiter have dedicated their lives and their careers to paving the way in industries that have historically excluded Black people by effecting meaningful change and redistributing the weight of the power scales.

Despite America's large racial wealth gap, 2022 is witnessing a rise Black philanthropy. According to the Federal Reserve Board, although Black families face systemic wealth inequality, since 2010, Black philanthropists have been the number one racial or ethnic group to contribute the largest portion of their savings and investment accounts to charities.
Read more about four change makers who are prioritizing giving back to the community and leading meaningful change within the realm of Black excellence, and inspiring those around them along the way.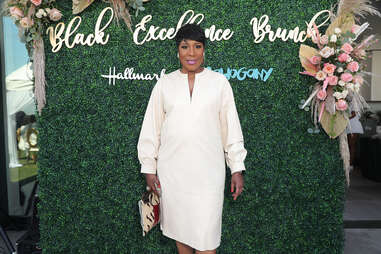 1. Ivy McGregor
Known for her work as the executive director of Beyoncé's charity, BeyGOOD, Ivy McGregor, who is also Parkwood Entertainment's director of VIP, philanthropy and corporate relations, also hosts her own Monday Mentoring Moments series, in which she sits down with aspiring entrepreneurs for talks meant to teach and inspire. Through her mentorship program, IvyInc, McGregor creates and hosts events such as the "Calibrate" Youth Leadership Summit, which is designed to instill future leaders with courage and skills to advance their careers as leaders. Through her work, McGregor shows an unrelenting dedication to helping those in need, whether they are survivors of natural disaster, social injustices, or victims of economic inequality.
McGregor also formed eVILLAGE, which is a global network for entrepreneurs to share resources, connect with one another, and acquire tools to jumpstart their careers. McGregor is also the author of multiple books including "It Matters," a book which details what she calls hidden inner turmoil, or "IT," and how to channel it into personal purpose and ambition.

2. Rich Paul
One philanthropists working to change a racially divided playing field is Rich Paul, an entrepreneur and sports agent. The world of American sports has long had a racist lineage. Presently, there is an abundance of white-owned teams, controversies linked to athletes like Colin Kapernick, and coaches denouncing players like LeBron James for wearing Black Lives Matter jerseys on the court.Oftentimes, players are kept under strict rules that restrict them from speaking up about issues in the community.
Behind the scenes, Paul resolves to bring more black C-level executives and ownership to teams.
"My motivation is to help ensure all young people of color live up to their potential and succeed in the face of systemic inequality that remains as real today as ever," Paul told Forbes.
Paul, who is the CEO and founder of Klutch Sports Group, has dedicated his career to helping aspiring Black athletes actualize their dreams. Paul began his career selling sports jerseys out of his trunk and became the first African American board member of the United Talent Agency in 2020.
 
3. Trae Da Truth
Rapper Tae Da Truth, a native of Texas,
works directly on the ground and often travels in the eye of the storm during Hurricanes and natural disasters to provide communities with clean clothing, car gas, oil, food and water. He also frequently hosts toy drives and back to school giveaways, and his work has even landed him a Presidential Lifetime Achievement Award.
As founder of Relief Gang, Trae is advocating for the transformative benefits of mutual aid in underprivileged communities. In a world full of charitable organizations, many advocates emphasize the importance of mutual aid as an alternative way to support marginalized groups. For one, mutual aid means that community members are banding together and using resources to provide support on the ground, directly to those around them.
For example, Trae and the Relief Gang recently handed out winter coats and food to homeless people in Houston, Texas.
In the aftermath of Hurricane Harvey, rapper Trae Tha Truth also helped victims in Houston, and then transformed the experience into a rap narrative. Earlier this month, the rapper announced the launch of 4 Corners Boxing by Trae Tha Truth in Houston, which he designed to be a "safe environment that trains both kids and adults for fitness, protection, and healthy living." The idea is for the recreational space to provide a place that "gives inner city youth an opportunity to grow and learn."
4. Mai Lassiter
As President of the Clara Lionel foundation, a non-profit organization founded in honor of Rihanna's late grandmother, Mai Lassiter works to make positive change on a global scale. Not only does her work involve providing support for Rihanna's home island of Barbados, but she also heads emergency relief efforts for natural disaster and sexual health clinics for women across the Caribbean.
Lassiter also leads a team of fellow passionate Black philanthropists who work to provide educational support in the form of investment in schools across Malawi, Senegal, Barbados and the United States, and supports legacy criminal justice projects by funding legal defense teams and and supporting measures to eliminate bail system disparities.